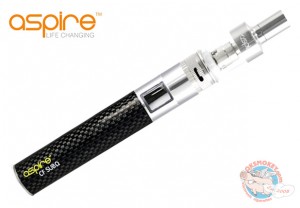 Sub-Ohm made simple by Aspire and KangerTech
February 18, 2015
There are lots of people out there that want clouds and flavor without any soecila skills or a big budget. There are also lots of people who build and drip but sometimes want a more convenient setup that gives the flavor and vapor they demand.
Aspire and KangerTech have come up with solutions, and are the new got-to-have equipment in the vape world.
Aspire has released the Atlantis sub-ohm tank along with a matching sub-ohm battery. This is a tank, but it performs like a dripper. The secret is in the .5 ohm (sub-ohm, because they're less than one ohm) coils. You fill it like a tank, and change the coils like a tank, but get outstanding vapor production and taste. You do need a power source that can energize a sub-ohm coil like a mechanical mod, or the Aspire sub-ohm battery.
Not to be outdone, KangerTech has released the SubTank. This tank also has a .5 ohm coil, but you can alo use a 1.2 ohm coil. The big difference from the Aspire Atlantis is the SubTank comes with a rebuildable deck! So it' a tank, sub-ohm tank, and rebuildable all on one. Pretty neat trick, huh? It also hold a ton of liquid…6ml in coild mode, 4ml in rebuildable mode.
These are both great products that perform incredibly with massive vapor production and superior flavor. Deciding which is right for you just comes down you to your personal needs and preferences.
We carry the Aspire Atlantis, the Aspire sub-0hm battery, and the KangerSubTank. Come down to one of our shops and we can help you choose what's right for you. Don't be left behind, get the latest and greatest equipment in the vape industry.